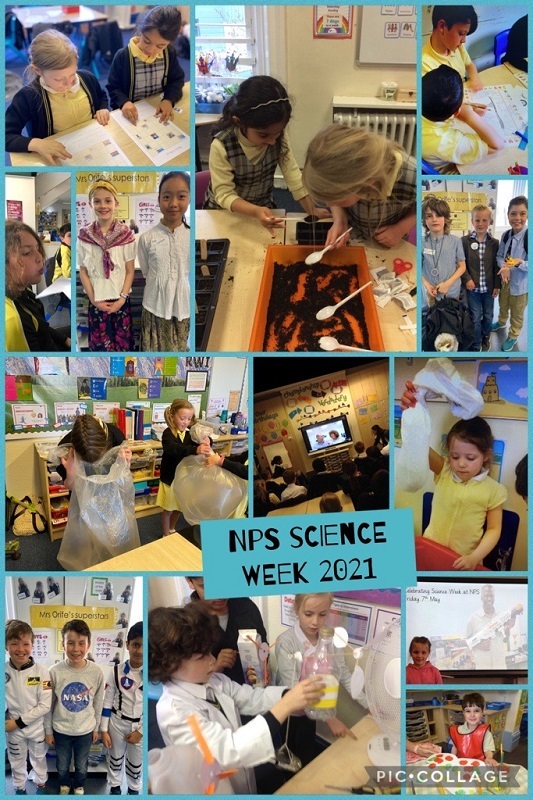 Posted on
It has been a real pleasure to see our children embrace Science Week with their usual high level of engagement and enthusiasm. Seeing the children dressed today as medics, explorers, astronauts, famous scientists and even as a mini - Mr Boddy warmed all of our hearts. Thank you so much for all your support in getting your children ready for this week and please find below a quick snapshot of the children's experiences for this week.
All the children in Nursery have looked amazing in their outfits and have taken to their explorer tasks like ducks to water. Their specialist subject has been butterflies and they have had their paint brushes and magnifying glasses out in equal measure.
The Reception classes have been having great fun in their laboratory investigating plastic pollution in the ocean and writing letters to Greenpeace.
Our Year 1 classes have transported themselves to the Amazon Rainforest and designed harnesses to help them explore the treetops of this region. These incredible designs were inspired by Margaret Lowan whose achievements are outlined in the engaging book; The Leaf Detective.
Lonnie Johnson, the African- American inventor of the super soaker, was the focus for Year 2. They designed their own adverts and took part in a range of experiments involving balloons and rockets!
Coding was the name of the game in Year 3. The book: How to Code a Sandcastle, inspired our Year 3 children to take part in practical coding activities, investigating the power of algorithms.
Year 4 were inspired by William Kamkwanba's true life story of how, at the age of 13, he set out to provide electricity for his village. Through his determination, ingenuity and resourcefulness he achieved his goal against all odds. Year 4 took a leaf out of William's book and have been busy making wind turbines from recyclable materials and investigating renewable energy. Fantastic work Year 4!
Influential Women in Science was the focus for Year 5 as they researched the wonderful women who contributed to a wide variety of fields in so many ways. Great scientists such as Mary Anning, Marie Curie, Katherine Johnson and many more have inspired our Year 5 children to aim high and never give up.
Thank you to all the parents who showed the wide range of careers available in the world of science through their interactive talks given to Year 6. The children were both fascinated and inspired by the work that our parents do and the positive impact you have. Year 6 really appreciated you giving up your valuable time, as did we all.